City of Lights Dental Blog
Posts for: December, 2014
By City of Lights Dental, PC
December 16, 2014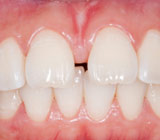 We all know Madonna, Seal, David Letterman, Anna Paquin and Michael Strahan (of the talk show Kelly and Michael). What do all of these celebrities have in common? Each has a "signature gap" between their front teeth. Given that they have been in the public eye for quite some time, it's not likely that these famous faces will choose to change their well-known smile. In fact, Michael Strahan has publically stated that he will never close his gap.
However, it is not uncommon for people to desire to fix a small gap in their teeth, particularly in advance of important events, such as weddings. Often times, fixing this small gap requires relatively simple orthodontic movements or tooth straightening. Since the teeth don't have to be moved very far, we can usually use simple appliances to correct the issue within a few months.
In order for us to determine your course of treatment, you'll need to make an appointment with our office for a thorough examination. When we examine you, we'll be looking for a number of items that will affect our treatment recommendation:
Is there enough room to close the space without creating other bite problems?
Are the roots of the teeth in reasonably good position to allow for minor tooth movement to close the space? X-rays will be required to make a proper assessment.
Is there an involuntary tongue habit that has pushed the teeth forward and created the gap? If so, this could be difficult to fix quickly.
Are the surrounding gum tissues and bone healthy?
Based on our assessment and your individual needs, we may recommend one of the following options:
Clear retainers, a computer-generated series of clear retainers customized for your bite to move the teeth
Removable orthodontic retainers to which we will attach small springs or elastics to facilitate the minor tooth movement
Traditional fixed orthodontic appliances (most commonly known as braces), small metal or clear brackets bonded to your teeth through which tiny wires are used to move the teeth
Regardless of the method we choose, once your teeth have moved into the new position, it is important for you to remember that they must be kept in this position until the bone stabilizes around the teeth. We may therefore advise you to wear a retainer for a few months to a few years, depending on your situation.
If you would like more information about orthodontic treatments, please contact us or schedule an appointment for a consultation. You can also learn more by reading the Dear Doctor magazine article "Minor Tooth Movement."
By City of Lights Dental, PC
December 01, 2014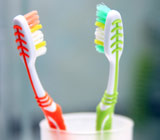 Your toothbrush serves the invaluable purpose of minimizing bacterial buildup (plaque) that can irritate gums and lead to periodontal disease, infection of the bone and tissues supporting your teeth. Brushing also helps dislodge food particles that certain oral bacteria would otherwise feed on, producing acids in the process that can eat through protective tooth enamel and the vulnerable dentin below. Given its importance to your oral health, you can maximize your toothbrush's effectiveness by using and storing it properly, and replacing it (or the brush head if you have a powered model) regularly.
Using and Storing Your Brush
All that's needed to dislodge plaque from oral surfaces is a relaxed grip and a gentle jiggling motion. Too much pressure can wear away tooth enamel, cause gum tissue to recede, and shorten the life of your brush head.
When you're done using your brush:
Thoroughly rinse it to remove any remaining tooth paste, food particles, etc.
If you're super-vigilant, you also can disinfect your brush by soaking it in mouthwash, brush-sanitizing rinse, or a half water/half hydrogen peroxide solution, or dipping it in boiling water for 5 to 10 seconds.
Air dry in an upright position and do not routinely cover your toothbrush or store it in a closed container. A dark, moist environment is more conducive to the growth of microorganisms.
Replacing and Recycling Your Toothbrush
Even with the best of care, toothbrush bristles become frayed and worn and their cleaning effectiveness diminishes after 3 or 4 months, according to the American Dental Association, though it could be sooner depending on factors unique to each patient. Besides checking the bristles regularly, a good way of keeping track is to write the date you start using your toothbrush in permanent pen on a big-enough spot on the handle (or doing it on masking tape applied to the base of a power brush).
Once your brush has passed its useful life for oral hygiene, you can still get plenty of mileage out of it. You'll find plenty of ideas on the internet for cleaning grout between tiles and grime-filled spots around taps and toilet lid hinges; removing mud from boot treads; scrubbing off corrosion from around car battery terminals and more!
If you would like more information about oral hygiene, please contact us or schedule an appointment for a consultation. You can also learn more about this topic by reading the Dear Doctor magazine articles "Toothbrush Lifespan" and "Manual vs Powered Toothbrushes."