City of Lights Dental Blog
Posts for: December, 2015
By City of Lights Dental, PC
December 22, 2015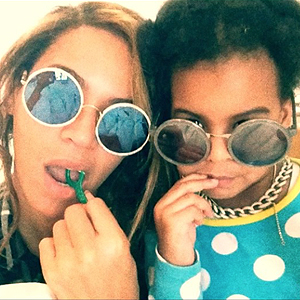 As is the case with most celebs today, Beyonce is no stranger to sharing on social media… but she really got our attention with a video she recently posted on instagram. The clip shows the superstar songstress — along with her adorable three-year old daughter Blue Ivy — flossing their teeth! In the background, a vocalist (sounding remarkably like her husband Jay-Z) repeats the phrase "flossin'…flossin'…" as mom and daughter appear to take care of their dental hygiene in time with the beat: https://instagram.com/p/073CF1vw07/?taken-by=beyonce
We're happy that this clip highlights the importance of helping kids get an early start on good oral hygiene. And, according to authorities like the American Dental Association and the American Academy of Pediatric Dentistry, age 3 is about the right time for kids to begin getting involved in the care of their own teeth.
Of course, parents should start paying attention to their kids' oral hygiene long before age three. In fact, as soon as baby's tiny teeth make their first appearance, the teeth and gums can be cleaned with a soft brush or cloth and a smear of fluoride toothpaste, about the size of a grain of rice. Around age 3, kids will develop the ability to spit out toothpaste. That's when you can increase the amount of toothpaste a little, and start explaining to them how you clean all around the teeth on the top and bottom of the mouth. Depending on your child's dexterity, age 3 might be a good time to let them have a try at brushing by themselves.
Ready to help your kids take the first steps to a lifetime of good dental checkups? Place a pea-sized dab of fluoride toothpaste on a soft-bristled brush, and gently guide them as they clean in front, in back, on all surfaces of each tooth. At first, it's a good idea to take turns brushing. That way, you can be sure they're learning the right techniques and keeping their teeth plaque-free, while making the experience challenging and fun.
Most kids will need parental supervision and help with brushing until around age 6. As they develop better hand-eye coordination and the ability to follow through with the cleaning regimen, they can be left on their own more. But even the best may need some "brushing up" on their tooth-cleaning techniques from time to time.
What about flossing? While it's an essential part of good oral hygiene, it does take a little more dexterity to do it properly. Flossing the gaps between teeth should be started when the teeth begin growing close to one another. Depending on how a child's teeth are spaced, perhaps only the back ones will need to be flossed at first. Even after they learn to brush, kids may still need help flossing — but a floss holder (like the one Beyonce is using in the clip) can make the job a lot easier.
If you would like more information about maintaining your children's oral hygiene, please contact us or schedule an appointment for a consultation. You can learn more by reading the Dear Doctor magazine articles "Top 10 Oral Health Tips For Children" and "How to Help Your Child Develop the Best Habits for Oral Health."
By City of Lights Dental, PC
December 07, 2015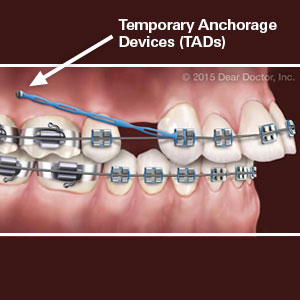 Braces are a common part of many teenagers' life experience — but not every bite problem is alike. Sometimes, there's a need for accurately moving only a few teeth while making sure others don't. This is where Temporary Anchorage Devices (TADs) can help streamline that effort and even reduce treatment time.
Orthodontics wouldn't work at all if we didn't already have a natural tooth movement mechanism in our mouths. That ability rests with the periodontal ligament, a tough, elastic tissue between the teeth and the bone that firmly attaches to both with tiny collagen fibers. Though quite secure in holding teeth in place, the ligament attachment also allows teeth to move in response to changes in the bone and jaw structure.
Braces are made of brackets cemented to tooth surfaces through which tiny wires pass. The wires are anchored, usually to other teeth or groups of teeth, and tightened to apply pressure against the other teeth. The ligament does the rest: as the teeth are "pressured" to move in a certain direction, new bone, ligament and an anchoring substance known as cementum forms behind it to secure the tooth in its new position.
The anchorage teeth are not intended to move. In some situations, though, it's difficult to keep them from not moving — much like trying to keep a boat anchor from not dragging through sand on the sea bottom. TADs help alleviate this problem: it's a mini-screw or mini-implant that's temporarily placed in the jawbone to which the tension wire can be secured. They're placed in the best positions for isolating the teeth that need to be moved without compromising the position of nearby teeth that don't.
With the site numbed with a local anesthetic, we install the TAD through the gum tissue into the bone with a special device; their screw-shaped design holds them securely in place. They're then removed when the orthodontic treatment is complete.
While a simple procedure, precise placement requires collaboration between the orthodontist and the oral surgeon or dentist who installs them. They also need special attention during daily hygiene to keep them clean. Still, with difficult bite situations they can help bring about the right outcome — a straight and beautiful smile.
If you would like more information on orthodontic treatment options, please contact us or schedule an appointment for a consultation. You can also learn more about this topic by reading the Dear Doctor magazine article "What are TADs?"