City of Lights Dental Blog
Posts for: April, 2018
By City of Lights Dental, PC
April 24, 2018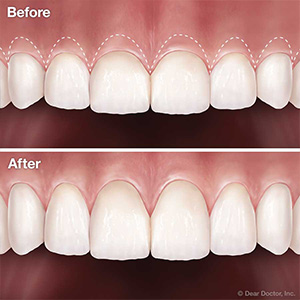 While we often associate tooth decay with cavities forming in a tooth's visible or biting surfaces, the occurrence of this all too common disease isn't limited to those areas. Cavities can develop in any part of a tooth exposed to bacteria.
Gum recession, the shrinking back of the gums from the teeth, can cause such exposure in areas normally covered by the gums. Because these areas are usually more vulnerable to infection when exposed, cavities can develop at or right below the gum line. Because of their location it can be difficult to fill them or perform other treatments.
One way to make it less difficult is to perform a crown lengthening procedure. While the term sounds like we're increasing the size of the tooth, we're actually surgically altering the gums to access more of the affected tooth surface for treatment. It's typically performed in a dental office with local anesthesia by a general dentist or a periodontist, a specialist in the gums.
During the procedure, the dentist starts by making small incisions in the gums to create a tissue "flap" that can be lifted out of the way. This exposes the underlying bone, which they then reshape to support the gum tissue once it's re-situated in its new position. The dentist then sutures the gums back in place. Once the gums heal, the decayed area is ready for treatment.
Crown lengthening is also useful for other situations besides treating cavities. If a tooth has broken off at the gum line, for example, there may not be enough remaining structure to support a crown. Crown lengthening can make more of the underlying tooth available for the crown to "grab" onto. It's also useful in some cases of "gummy smiles," in which too much of the gum tissue is visible in proportion to the tooth size.
Because crown lengthening often involves removing some of the bone and is thus irreversible, you should discuss this procedure with your dentist in depth beforehand. It could be, though, this minor procedure might make it easier to preserve your teeth and even make them look more attractive.
If you would like more information on crown lengthening, please contact us or schedule an appointment for a consultation.
By City of Lights Dental, PC
April 14, 2018
Not long ago the dental bridge was the alternative treatment of choice to partial dentures for restoring lost teeth. Over the last few decades, however, dental implants have nudged bridgework out of this premier spot.
That doesn't mean, though, that bridgework has gone the way of the horse and buggy. In fact, it may still be a solid restorative alternative to partial dentures for certain people.
A traditional bridge consists of a series of porcelain crowns affixed to each other like pickets in a fence. The end crowns are fitted onto the teeth on either side of the empty tooth space; known as abutment teeth, they support the bridge. The crowns in the middle, known as pontics (from the French for "bridge"), replace the teeth that have been lost.
Bridges have been an effective and cosmetically pleasing method for tooth replacement for nearly a century. To achieve those results, though, a good portion of the abutment teeth's structure must be removed to accommodate the crowns. This permanently alters these teeth, so they'll require a restoration from that point on.
Dental implants, on the other hand, can be installed in the missing space without impacting any neighboring teeth. What's more, implants provide greater support to the underlying bone than can be achieved with bridgework.
But not everyone is a viable candidate for implants, and ironically the reason most often has to do with the bone. If a patient has suffered significant bone volume loss, either because of disease or the long-term absence of the natural teeth, there may not be enough bone to properly support an implant. Unless we can adequately restore this lost bone volume through grafting, we'll need to consider another type of restoration.
That's where bridgework could be a viable option for patients in this or similar situations. With continuing advances in materials and new applications, the traditional bridge still remains an effective and important means to restore a smile marred by missing teeth.
If you would like more information on dental restoration options, please contact us or schedule an appointment for a consultation. You can also learn more about this topic by reading the Dear Doctor magazine article "Crowns & Bridgework."